DFS to CERNBox Home folders migration
The DFS to CERNBox migration is happening in the context of MALT project and it is mandatory for all CERN accounts.
Important: please note that this migration affects ONLY your personal DFS folder under \\cern.ch\dfs\users\. Other folders like Workspaces, Departments etc are not affected.
Current status
You can see the migration progress in the dedicated Grafana dashboard HERE.
Schedule
As of Friday, 29th November 2019 newly created accounts are by-default into the new configuration.
Secondary and Service accounts are targeted randomly. Primary accounts are targeted per department according to the following schedule:
| JAN | FEB | MAR | APR-MAY | JUN | JUL | AUG-SEP |
| --- | --- | --- | --- | --- | --- | --- |
| TE | EN | BE | EP | HSE, IT | SMB, FAP, HR, TH, IPT, IR, ATS, PF, DG, RCS | SPECIAL CASES |
If you would like to get migrated in an earliest time, please start a SNow ticket by following THIS link.
UPDATE: Due to the unprecedented situation with the COVID-19, this scheduled is not followed precisely.
What is getting migrated ?
Users' Home profile [1] is living in DFS file system in the Data Centre. We are migrating this profile into CERNBox, the CERN cloud data storage which is based on EOS file system.
Other DFS folders like Departments, Projects, etc. are not getting migrated in the context of this migration.
[1]: Home profile is considered the directory with your username \\cern.ch\dfs\users\<username>\. This directory normally includes the folders Contacts, Desktop, Documents, Favorites, Links, Public as well as any other directory that you might have manually created.
Steps of the migration
Communication with the user
Following the above-mentioned schedule, we communicate with the targeted users by email. The email is both in English and French language. An example of the English version of the email is the following:
Dear <user>,

We contact you in order to plan the migration of your account <username>'s home folders from DFS (\\cern.ch\dfs\users) to CERNBox.

This is happening in the context of MALT and is mandatory. This migration will ensure that all your data will be safely preserved on CERNBox and is scheduled from 16th of February at 19H00 to 17th February at 06H30.

When coming back at the office on Monday, your machine will be configured when opening your Windows session.

If you have any concern about migrating the data by that date, please reply to this mail. A backup procedure task will safely copy all your user documents (Desktop, Documents, Pictures, Videos, Music) from DFS (\\cern.ch\dfs\users) to CERNBox. Thanks to close all open documents before closing your session at the end of the working day.

Please note you should not edit your files over the night and all your sessions should be open again from the 17th to let the new configuration to be applied.

After migration, when you log in to CERNBox website, the directories' structure will be the following:

Documents

Music

Pictures

Videos

WINDOWS

---\Desktop

---\Favorites

---\Links

---\Public

You should also see your data available using the usual Documents shortcut. If it is not the case please contact us. Please note you no longer have WRITE access to your <username> account's personal DFS folder (\\cern.ch\dfs\users).

In case you have any questions, please write an email to cernbox-migration-supporters@cern.ch

Regards, The NICE Team
Please remember that if you have any work constraints that do not allow you to migrate your account the suggested date, please reply back to this email asap, asking to postpone.
Overnight procedure
As stated in the email, an overnight automated procedure is copying your DFS profile into CERNBox. The new structure for the folders is created automatically in your CERNBox space. Files and folders already in your CERNBox space will not be removed or touched by any means.
Please note that under no circumstances will we overwrite your data! Your data is only copied from DFS (not moved/deleted) and in case there is a clash in the destination, the procedure will NOT continue automatically.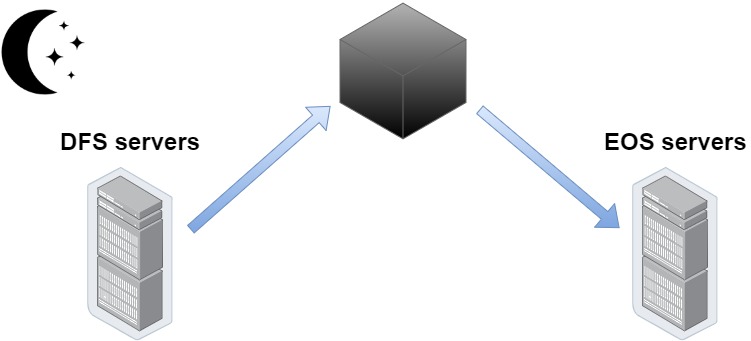 Initial logon
When you log back in your computer(s) after the date/time stated in the email, a one-time script will be executed and configure your machine(s) with the appropriate configuration. One of the two configurations will be applied:
locally stored files (use of CERNBox sync client)
network mapped profile (SMB protocol)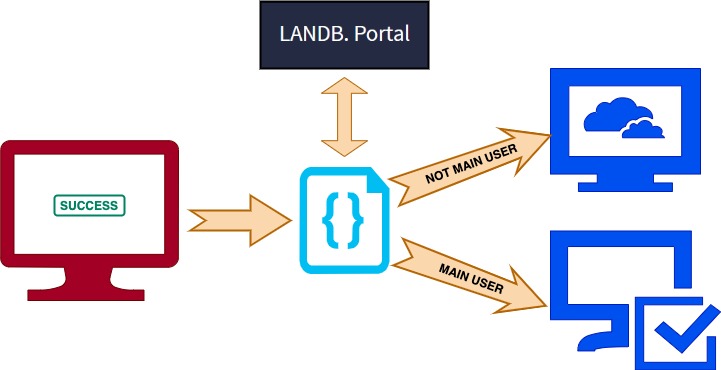 Local files (CERNBox sync client)
In this configuration, the Home profile of the user is saved locally in the Hard Drive. The default location is in the cernbox folder under your local user profile : C:\Users\<username>\cernbox. The CERNBox client is configured to synchronise the cernbox folder (which is the client's default) synchronising in this way your full Home profile.
The Windows Registry is configured to point in this new location and all standard Files Explorer shortcuts work as before.
By default, the full cernbox folder is synchronised. That means that when you create a new file or folder inside this location, it will be also available to any of your devices with CERNBox client installed as well as in the CERNBox website.
Mapped profile (SMB protocol)
In this case, your data is not copied locally. Your Home profile is "mapped" through the network and the Windows Registry is configured to point into the Network location.
\\cernbox-smb\eos\user\<first-letter>\<username>\
Since your files are not downloaded on the PC, there is no space occupied in the computer's Hard Drive. Keep in mind though that you might experience delays when you access directories with many small files.
This configuration is suggested for shared computers (e.g. meeting rooms) where having the client synchronising the profile of many users would not be optimal and could result in filling up the Hard Drive quickly.
How to prepare before the migration ?
Offline DFS synchronisation
In order to avoid any locally cached data loss, it is important that all your CERN computers are inside CERN network before the copy of your data.
For this reason, you need to bring your CERN laptop inside CERN and turn it on in order to allow the Windows Offline Files synchronise any file edited while away of CERN.
Also, you should not edit any file in your laptop during the evening of the migration and before you bring the laptop again back at CERN to allow the configuration to execute.
Save & close all open documents
The automated procedure involves copying your Home profile from DFS into CERNBox. For this to happen flawlessly, it is critical that you save and close all your open files and that you do not access them for the duration that is stated in the email.
Keep in mind that if you have work-related constraints and you really need to access your profile during the suggested migration date, please reply back to the email as soon as possible asking for a postponement.
Main user of the device
The most important step of the migration is happening at the beginning of the configuration script during the first logon. At this point the script is checking who is the Main user of the device and chooses which of the two above-mentioned configurations to run. In order to use the correct configuration, the computer has to be correctly configured in the Network Portal https://network.cern.ch/
We advise you go to the link mentioned above, connect with your CERN account and click on the "Display Information". Then type your computer name [3] in the "Device Name" field and hit Enter. If you see that in the device's properties there is another user as the Main User of your computer, please use the "Update Information" link and correct this setting.
More information on how to change the Main User of a device is available in the KB article KB0001612.
[3]: in order to find your computer name, please follow the instructions here: KB0001865
Other
The full procedure is automated, therefore there are not many things you need to take care of in advance. What we suggest though is that you could use this opportunity to check your DFS folder before the migration and maybe clean up / organise your files in a more convenient way for you.
Important changes
Files location
After the DFS to CERNBox migration, your home profile is now in the CERNBox servers.
For computers where you are the Main User, your profile is synchronised locally in the Hard Drive. The location of the files is the cernbox folder C:\Users\<username>\cernbox.
When you are working on a temporary computer (computer that you are NOT the Main User) your profile is accessed through the network without copying anything in the Hard Drive. The location that Windows operating system uses is \\cernbox-smb\eos\home-<first-letter>\<username>\.
Since the change is happening in the Windows Registry, the configuration should be transparent. Software that used to access e.g. your Documents folder, will automatically recognise the change and will still be able to access the Documents folder in the new location.
Please note that after the migration, your DFS files are not deleted immediately. They will still be available until the DFS system is decommissioned.
You can access your full profile by visiting the CERNBox website at https://cernbox.cern.ch.
For more information on the ways available to access your personal CERNBox space, please see the documentation HERE.
Custom shortcuts
Although the default Windows locations are updated and the changes should be transparent, this might not be the case for manually created shortcuts pointing to specific locations in your DFS space. Unfortunately, these shortcuts need to be re-created manually.
The same applies for Office documents with macro-commands that point to other documents and the target path is hard-coded.
For documents and software where the path is using Environment Variables (e.g. %USERPROFILE%) nothing needs to be changed.
DFS permissions
Your DFS Home folder \\cern.ch\dfs\users\<username> is locked for WRITE access the moment that the automated copying procedure starts. That means that no one (including you) will be able to edit or create new data in your personal DFS space anymore.
The reason for this setting is to protect you from accidentally editing a file in DFS (while the file should be edited in CERNBox) and then losing the file when DFS will be decommissioned.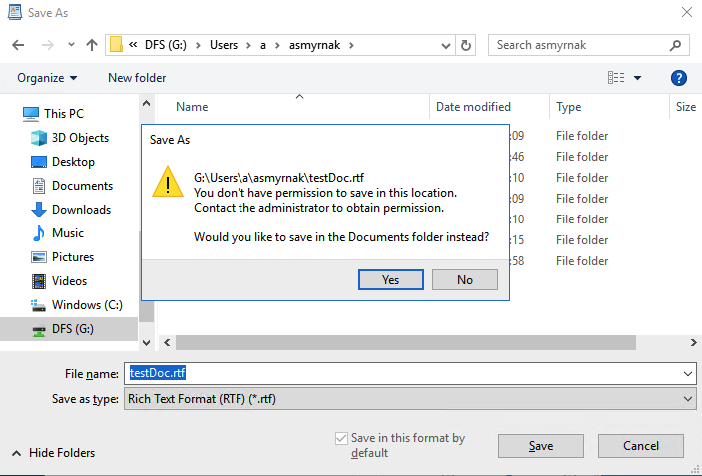 If you see a message similar to the one above, maybe you followed a shortcut pointing to a document in DFS. Please delete or manually edit this shortcut to point in CERNBox.
DFS Public folder
Although your Public DFS folder will still be accessible for some time, it is highly recommended that you re-organise your Shared folders & documents and you follow the more secure and controlled way of sharing through CERNBox. The automated copy procedure is copying your DFS Public folder into the subdirectory WINDOWS in your CERNBox space:
C:\Users\<username>\cernbox\WINDOWS\Public
The above-mentioned folder is NOT public anymore. Only you have access to it since it is located inside your personal CERNBox space. We suggest that you move the files and folders from the Public directory into relevant locations (e.g. into Documents, Pictures etc) and then share them with the people that need to have access.
More help on how to share using CERNBox is available in the documentation HERE.
New Drive H:\
After the DFS to CERNBox migration you will notice that in the Windows Files Explorer a new network drive appears. The drive H:\.
You can find the full EOS structure under this drive and you can easily navigate to your home profile or to a project. It acts in a similar way as the G:\ drive for DFS.

Configurations to avoid
Renaming, moving or deleting Windows default folders
The default folders created in your CERNBox space should never be renamed, moved or deleted. This will result in instability of your local computer. These folders are:
Documents
Music
Pictures
Videos
WINDOWS\Desktop
WINDOWS\Favorites
WINDOWS\Links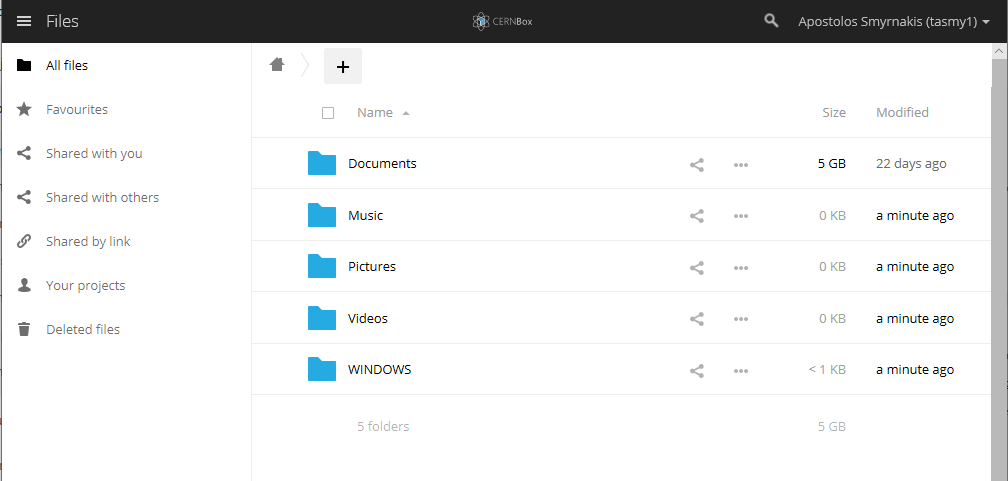 Un-syncing Windows default folders
CERNBox client offers the extremely useful feature of choosing what to synchronise locally. In that way you can save some space on your Hard Drive by not keeping locally big folders that you do not use often.
More info on this feature is available HERE.
Important: you should never stop synchronising the Windows Default folders. These are:
Documents
Music
Pictures
Videos
WINDOWS\Desktop
WINDOWS\Favorites
WINDOWS\Links
Trying to stop synchronising those folders will result in falling into a loop where the client will try to delete the local directories but Windows OS will not allow that.
In the example below you can see that the directory big_folder and some more directories under Documents are not synchronised locally.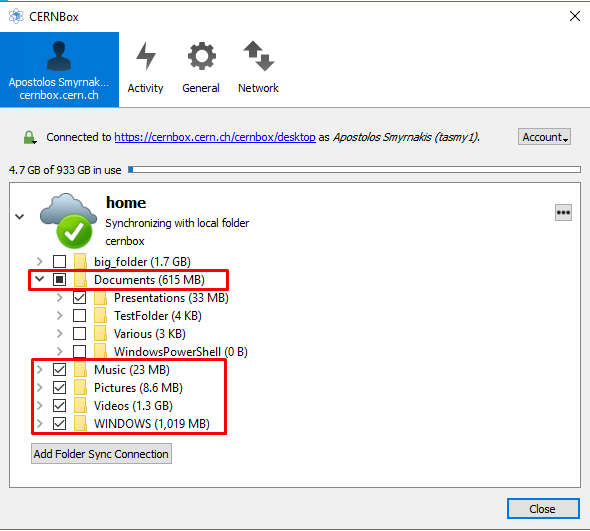 In case you accidentally mis-configure the client, please open a ticket asap to avoid having an unstable system.
It goes without saying that the above-mentioned default folders should not be deleted in the CERNBox website.
Uninstalling CERNBox client
It is clear by this point that the CERNBox client is handling all the synchronisation of your profile across your devices and with CERNBox servers.
It is mandatory that the client is always installed on your system. All CERN Windows computers should have the client installed by default.
If you wish to install the client on your personal computer you can find the installation file HERE.
Known issues
Synchronising DFS with CERNBox
It is known that synchronising CERNBox with a DFS folder can result in client's misbehaviour and general issues with the synchronisation. Relevant KB article: KB0004989
You are strongly advised to contact us before the migration of your account in order to avoid client misconfiguration or corruption of your files: start a ticket.
Non-default CERNBox client configuration
The CERNBox client offers you the possibility to choose the location of the local folder (other than the default location in C:\Users\<username>\cernbox) and to add more synchronisation points with your CERNBox space or a folder shared with you.
Although the migration procedure can recognise these custom configurations and adapt the client's settings accordingly, there are a few cases where the original synchronisation points are removed or that the whole CERNBox space is re-synchronised in the default location.
In those cases, your files are not deleted but they might stop synchronising with CERNBox servers. Another side-effect can be that the files will synchronise twice in different locations, occupying more Hard Drive space.
In the above cases, please start a ticket asap in order to correct the configuration.
Slow response through SMB
When accessing your profile through the network (configuration for a temporary computer - user not the Main User) Windows is using the SMB protocol.
We have observed slight delays in loading a folder which contains many small files. The same behaviour can be observed when accessing or editing the metadata of many files.
If you experience similar behaviour, please start a ticket so we can troubleshoot and possibly re-configure the computer to use local files (synchronisation with CERNBox client).
Overlay icons not shown
When the CERNBox client runs, it adds overlay icons on the files and folders that are under synchronisation. These icons show the status of the synchronisation at a glance.
In the example bellow you see that one folder is still under synchronisation while the rest of the folders and files have finished uploading in the server.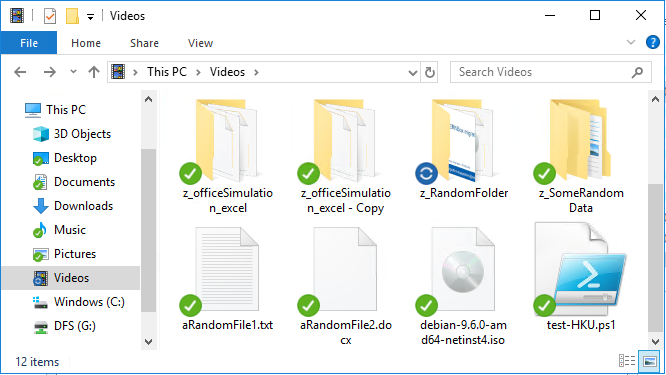 The Windows operating system has a limit on the amount of overlay icons that can use. That means that if you are using applications that add overlay icons (like Dropbox, Onedrive, Bitbucket etc) you might notice that the CERNBox overlay icons are not shown.
In that case, please start a ticket and we can manually configure the operating system to show CERNBox's overlay icons.
Error message 'Location is not available'
It has been observed that in some cases the permissions configuration of the local cernbox directory fail. In such a case, you might experience issues while accessing your Desktop, Documents etc.
In such a case, please start a ticket and the IT support will restore the issue.
Some of the advantages
Online software
Many of the most commonly used office applications are integrated in the CERNBox website. You can easily view or edit any Office file though the web browser, without the need to download the file locally or installing any software on your computer.
Some other applications that are also available inside CERNBox website are:
Synchronisation over the Internet
The DFS system is not offering files synchronisation when you are outside of CERN network. A major drawback of this limitation is that you cannot use both your laptop and the Windows Terminal Servers while you travel away from CERN.
The files that you edit in your laptop will remain local and will not synchronise with your DFS profile until you are back at CERN.
The CERNBox client can constantly synchronise over an encrypted HTTPS connection, as long as you have an active Internet connection.
This protects your files from unexpected problems that might happen on your laptop and can also give you easy and immediate access to your profile over any Internet-connected device.
More control over Shared folders
It is now easier than ever to keep an eye on the shared folders, edit the target group and revoke a shared access, all through the CERNBox website.
You can also create shares directly in your computer by using the right-click CERNBox integration.
More information about sharing methods are available in the documentation HERE.
Extra
Training course
A training course explaining the basics behind the DFS to CERNBox migration is available in the CERN Learning Hub. The course is available in both English & French and lasts for two hours.
The Training Centre's accounts & computers are used in order to explain to the participants the functionality of CERNBox in the context of the Home Directory, after the migration from DFS.
Public presentations
The DFS to CERNBox migration team is organising presentations with Groups and Sections across CERN in order to provide users with more information on this migrations and answer their questions. One of these presentations was recorded and is available in CDS.
If you would like to organise a presentation for your Section, please email us and we will discuss your request.
Email: cernbox-migration-supporters@cern.ch
Comments / feedback
Your comments and feedback are always welcome. Please email us at cernbox-migration-supporters@cern.ch if you would like to propose or ask whatever might be related to the DFS to CERNBox migration.