Collabora Online
Collabora Online is one of MS Office Suite alternatives for users who would like to collaboratively work on their files. This application is based on LibreOffice, thus it is the best fit for ODF (Open Document Format) files i.e. ODT, ODS and ODP. It is already available on CERNBox.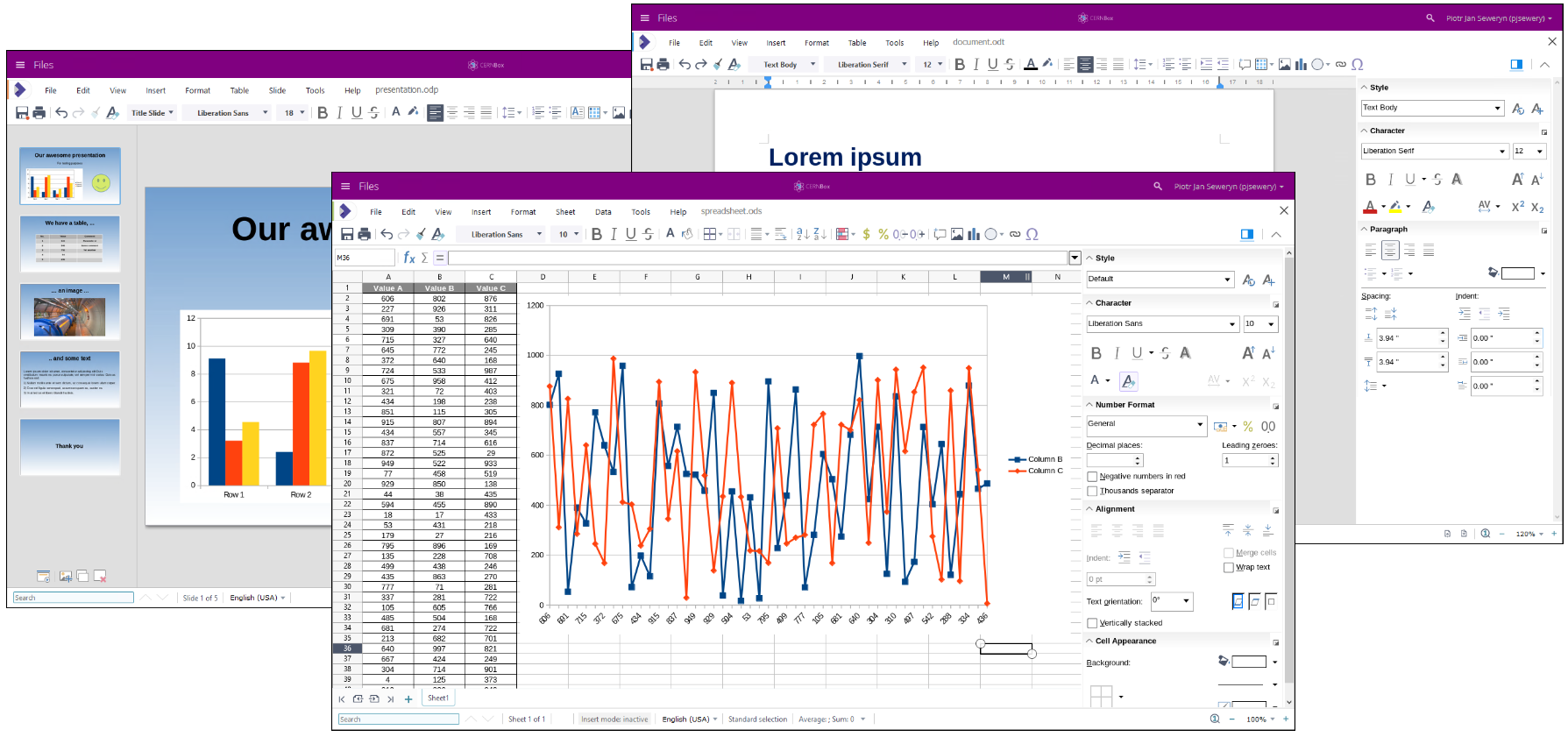 Installation
Collabora Online is available on CERNBox. There is no need to install anything else, all you need is your web browser!
NOTE!
There are some issues with simultaneous editing of documents by several users. Performance is degraded when more than 3 users connect. The issue is under investigation with the Collabora Online team. Until this is fixed, consider limiting the number of users to 3 when simultenously editing the document
Login to your CERNBox account using your CERN SSO credentials. If needed, upload your files there or create new ones. Click one to open it or share it with your colleagues.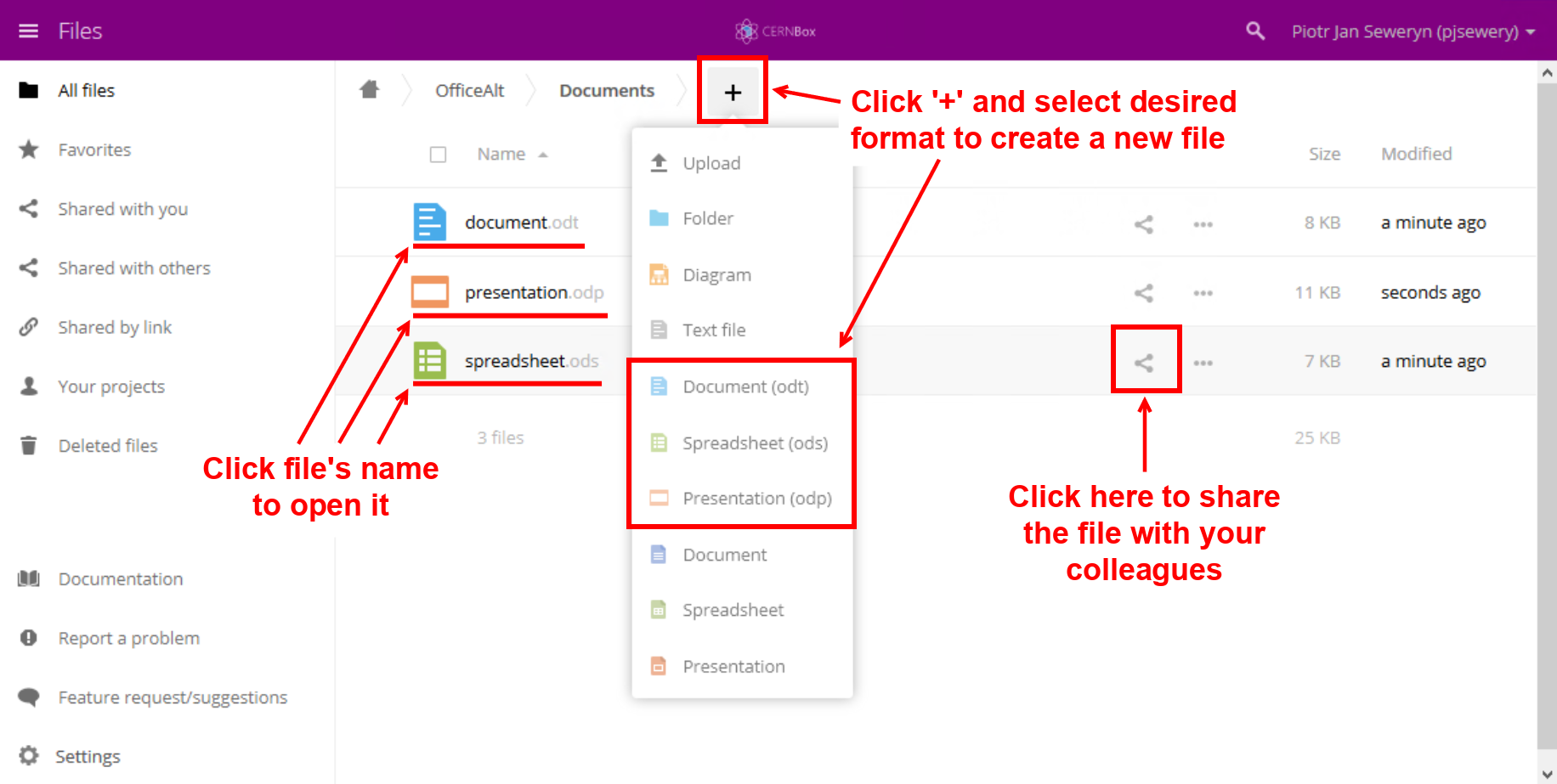 WARNING!
Users working on the same document (via CERNBox or shared network storage) should use the same application to edit the document, otherwise the document can get corrupted. Check this KB0006664 for more details.
If you would like to work locally on your computer, you may want to consider using LibreOffice.
Supported Browsers
Collabora Online is supported by most of modern web browsers and was checked on:
Google Chrome,
Mozilla Firefox,
Microsoft Edge,
Safari,
Opera.
Use Cases
Viewing and editing documents, spreadsheets and presentations.
Working on files in collaborative fashion and in real time with other users.
Sharing files through CERNBox with your colleagues (shared folders, project spaces) and external people (public links).
Features
Documents (Writer), spreadsheets (Calc) and presentations (Impress) editors.
Based on Libre Office:

familiar UI,
optimized for ODF files (ODT, ODS, ODP).

Advanced set of features.
Real time collaboration with multiple users through CERNBox.
NOTE!
It is possible to open Microsoft formats (DOCX, XLSX, PPTX) with Collabora Online. However, in some cases partial loss of the formatting may occur. If you need to work with these formats, please consider using OnyOffice instead.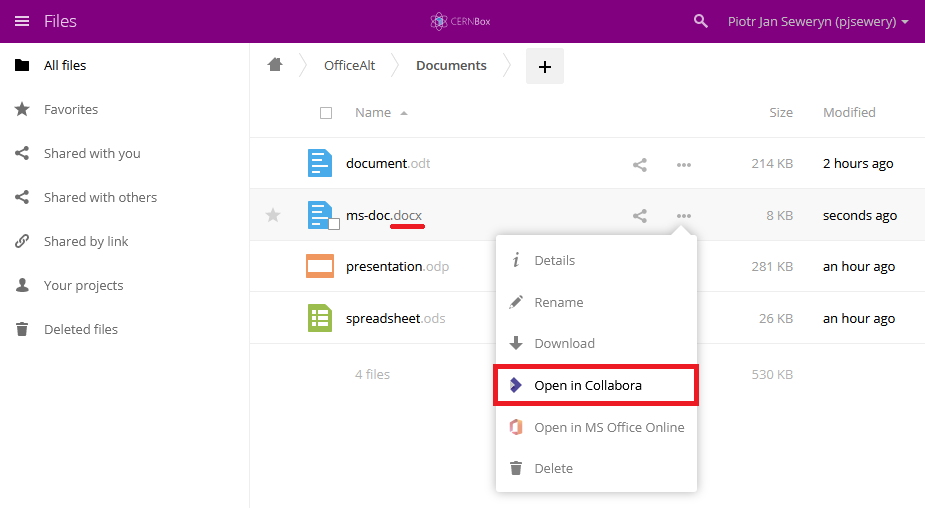 User Manual
You may find a help page for each application of Collabora Online by clicking HELP button in the top navigation bar as presented in the picture below.

You can also check the Collabora Online User Manual.
User support
Should you have any problems with Collabora Online please open a ticket using Service Now.
You may also ask your questions in the MALT-Office channel on Mattermost.